Opening hours
Greenland National Museum has changing opening hours, depending on the season.
Winter
September 16th — May 31st

Tuesday—Sunday
1 pm — 4 pm
Monday closed
Summer
June 1st - September 15th
Everyday
10 am - 16 pm
Closed days:
December 24th.
December 25th.
December 26th.
December 31st.
January 1st.
Admission and guided tours
During the summer there is an admission fee of 30 DKK
Children below the age of 16 are free of charge
Free entry for all on sundays
A guided tour can be arranged by contacting the museum at:
nka@natmus.gl or phone: (+299) 32 26 11
A guided tour with up to 10 people is 450 DKK/hour.
Contact the museum for further information regarding guided tours.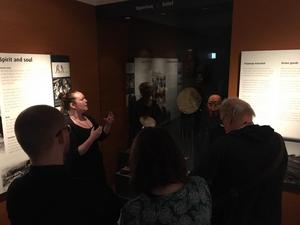 Welcome to the National Museum
The National Museum is Greenland's largest museum of cultural history.
The museum safeguards and promotes the history of Greenland, and our collections come from all over the country.
A visit to the National Museum is an experience and opportunity to gain insight into the many cultures that have existed in Greenland.
Here you can read more about the museum's collections and exhibitions, as well as Greenland's intangible cultural heritage.
The museum's history
The first museum exhibition opened in 1965 in the old Moravian Mission House from 1747. The National Museum was inaugurated in the same building on August 23rd 1966.
The museum was subsequently moved to its current location in the 1970s after a repatriation program between the National Museum of Denmark and the Museum of Greenland had begun.
The repatriation program, called Utimut - which means "Going back", meant that thousands of Inuit items that had been taken to Denmark by explorers, was returned to Greenland. This meant that the museum outgrew its original building and had to be moved to our current buildings.
The first legislation on museums in Greenland was passed on January 1st 1981, and the first legislation on archives on November 1st 1982. The National Museum and National Archives were separate, independent institutions until they joined forces on January 1st 1991 under the name Greenland National Museum & Archives.
The majority of the museum and office buildings are from 1930-34, with an extension from 1992. Opposite the main entrance is a cooper's workshop from 1887. The building closest to the bridge was a carpenter's workshop, built on the foundations of Hans Egede's church in Nuuk. Next to that is the old Royal Greenland Trading store from 1850.